1 elogio di Million Dollar Extreme presents: World Peace
Million Dollar Extreme presents: World Peace (o semplicemente World Peace) è stato uno sketch show comico-satirico andato in onda dal 5 agosto al 5 dicembre 2016 sul canale di comicità alternativa Adult Swim e ideato dal trio comico Million Dollar Extreme, composto da Sam Hyde, Nick Rochefort e Charls Carroll, affiancati occasionalmente dal loro amico Erick Hayden.
Lo show, composto da 6 episodi di circa 11 minuti ciascuno, rappresentava il primo passaggio del gruppo da YouTube a una rete tv, e il risultato in fatto di ascolti non è stato per niente negativo: una media di 1 milione di telespettatori a puntata. Pochi rispetto a una rete generalista Usa, tantissimi per una costola di Cartoon Network.
Tuttavia, dopo la prima stagione, World Peace è stato cancellato per ordine della Turner Broadcasting.
Di questo show mi è piaciuto tutto: gli sketch, lo stile, le musiche, le scenografie e persino i bumper; erano anni che non mi appassionavo così tanto a un programma tv satirico.
Tuttavia, ammetto che prima di scrivere questo articolo ho voluto aspettare un po' di tempo per assicurarmi che la mia non fosse una cotta passeggera, di quelle che solitamente seguono fenomeni artistici fuori dagli schemi.
Dopo aver passato mesi a guardare e riguardare ogni singolo sketch senza dedicare tempo a qualsiasi altro spettacolo comico e a cercare ovunque in rete le musiche dello show, non ho più dubbi: è arrivato il momento di parlare di World Peace.
(Attenzione: siccome l'articolo contiene spoiler, per chiunque fosse interessato suggerisco di guardare prima i 6 episodi, che un utente di Reddit ha caricato su Vidme nelle versioni con i bumper non censurati: Episodi World Peace).
Censura
Prima di analizzare i contenuti del programma, è giusto soffermarsi prima su un altro aspetto rilevante che ha caratterizzato la storia di World Peace: la censura. Censura che, nel caso di questo show, è stata palesemente di carattere politico.
Fin dalla messa in onda delle prime puntate, World Peace è stato travolto da un'ondata di media panics alimentata non tanto dal pubblico, quanto da personalità mediatiche americane come blogger, giornalisti e perfino altri comici di Adult Swim: tra questi Brett Gelman e Zandy Hartig, i quali minacciarono di abbandonare il network pur di non condividerlo con i MDE.
Come mai tutto ciò?
La motivazione è che, tra i vari bersagli della satira di World Peace, c'erano anche quelli che oggi (per quanto riguarda comicità e satira) rappresentano i "nuovi intoccabili", come razza, femminismo, comunità LGBT ma prima ancora il perbenismo politically correct che circonda spesso i dibattiti su queste tematiche.
La barriera attorno a questi temi era diventata troppo grossa e satiricamente appetibile per passare inosservata, e così al di fuori della rete ci hanno pensato i Million Dollar Extreme ad abbatterla, pagando un caro prezzo ma regalando al mondo uno show unico nel suo genere.
La motivazione definitiva che ha portato alla cancellazione della serie è stata la vicenda del giornalista di BuzzFeed Joseph Bernstein, il quale si mise a setacciare il web fino a trovare dei post su Reddit in cui Sam Hyde, sotto pseudonimo, esprimeva le sue idee politiche vicine al conservatorismo, cosa che a quanto pare è bastata al giornalista per dedicare ben 3 articoli a World Peace bollandolo come "show di estrema destra".
Bernstein inventò inoltre di essere venuto a conoscenza del fatto che Sam e il suo gruppo inizialmente volessero nascondere delle svastiche nello show.
Nonostante Sam abbia smentito la cosa e né Bernstein né Adult Swim ne abbiano mai dimostrato la veridicità, lo show è stato ugualmente cancellato e la questione delle "svastiche nascoste" è diventata una battuta ricorrente tra i fan dei MDE.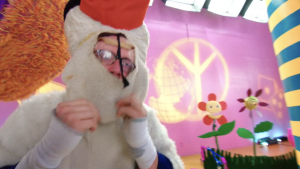 Personalmente, credo che tutto il dibattito su questa questione sia stato assolutamente superfluo, soprattutto quando si parla di una serie che non ha mai nascosto il suo amore per il simbolismo politicamente scorretto.
Basti pensare al fatto che, prima del simbolo della pace, il logo originale di World Peace doveva essere un cerchio con al suo interno un 1 e un ∞ sovrapposti, ovvero uno dei simboli rinvenuti nel diario del killer James Holmes.
Così come, nello sketch "Jews Rock", sullo sfondo è presente un simbolo della pace capovolto – somigliante quindi a una Runa della vita – sovrapposto a un'immagine del pianeta Terra.
Questo ci catapulta dritti al secondo aspetto interessante del programma: il suo stile.
Stile
A prima vista lo stile surreale e strampalato di Million Dollar Extreme presents: World Peace non è tanto diverso da quello di altri show di Adult Swim. C'è però qualcosa in più che rende World Peace diverso dalla concorrenza: una sana dose di satira e critica sociale.
In questo caso, quando si parla della satira di World Peace, non si tratta di satira politica, ma di una satira sociale su temi d'attualità che non punta alla punchline fulminante, ma – come detto poco sopra – viaggia su un piano al contempo simbolico, provocatorio e surreale. Molto surreale, al punto che molti sketch sembrano ambientati in dimensioni oniriche (Wine Party, Teacher, Bad Father, per citarne alcuni).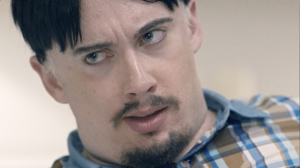 Il forte surrealismo conferisce alla maggior parte degli sketch una molteplicictà di possibili interpretazioni, mentre altri sketch, pur mantenendo un'area da test di Rorschach, hanno dei significati più trasparenti (Mark Zuckerberg, How To Make Tap Water).
In linea di massima la maggior parte degli sketch va vista più volte per essere compresa appieno, senza contare che ci sono sketch da 1 minuto talmente profondi che ci si potrebbe soffermare per ore a scriverne.
Alcuni sketch, inoltre, racchiudono in sé una certa anima di malinconia e frustrazione, trasmettendo quasi la sensazione che, nonostante il programma si chiami World Peace, il mondo stia per finire fra 5 minuti.
Non per nulla su carta (e nel pilot) World Peace si presentava come "uno show ambientato in un futuro distopico non molto diverso dal nostro presente", il tutto però fortunatamente coperto da una spessa patina di stramberie che gli permette di distanziarsi dal catastrofismo di altri programmi distopici.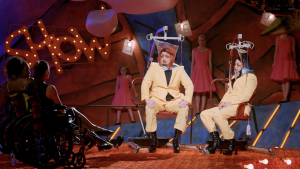 Un altro elemento chiave dello stile dei Million Dollar Extreme, che però non è presente in tutti gli sketch, è l'improvvisazione.
Esclusi gli sporiadici momenti di imporvvisazione sparsi un po' in tutta la serie, esempi di interi sketch in World Peace basati su questa tecnica sono Baseball, Women Got Talent e il bellissimo The Wall Show: una sorta di dating show futuristico che occupa quasi tutti gli 11 minuti di una puntata, ma vale la pena di essere visto.
In questa piccola manciata di sketch ad improvvisare non sono solo i MDE, ma anche e soprattutto gli attori secondari, ai quali veniva richiesto di agire e reagire in modo naturale dopo essere stati informati del constesto dello sketch.
L'aspetto straordinario è che qualsiasi parte improvvisata di World Peace non stona assolutamente con il resto ma, anzi, si mescola e si confonde alla perfezione nello stile surreale dello show, al punto da indurre lo spettatore a domandarsi se alcune gag siano effettivamente improvvisate oppure no (la parte in The Toss It Project in cui Sam sprofonda nello scalino cubico era prevista oppure no? E la parte in Kid Six in cui Nick chiama l'intervistatrice "dumb fucking bitch?").
A questo punto, è arrivato il momento di entrare più nel dettaglio degli stupendi sketch di Million Dollar Extreme presents: World Peace.
Sketch
Premetto che non c'è un singolo sketch di World Peace che non mi sia piaciuto. Ognuna di queste scenette, da quelle più lunghe a quelle che durano meno di un minuto, mi hanno lasciato qualcosa, mi hanno fatto riflettere o semplicemente mi hanno fatto molto ridere.
La visione di tutti gli episodi di World Peace è un viaggio tragicomico che termina con I'm scared of growing up, ovvero il finale della sesta e ultima puntata, che è una malinconicissima rassegna di monologhi interiori di alcuni bambini che stanno giocando a palla in cortile e nel frattempo pensano cose come: "devo prendere 54mg di Concerta ogni mattina, e la cosa mi sta cambiando" o "mia mamma ha detto che Donald Trump è razzista, e io non ho altra scelta che crederle".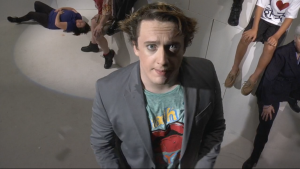 Lo sketch migliore di World Peace rimane però The Toss It Project, in cui Sam interpreta un eccentrico promotore di una campagna social che consiste nello scrivere su un bicchiere di plastica l'offesa più brutta che si sia mai ricevuta, per poi gettarlo "ai giardinetti, nelle scuole, in un fiume. Qualsiasi posto va bene".
Stupenda metafora di come nella società contemporanea vittimismo, egocentrismo ed esibizionismo sono stati amplificati dai social network.
We can all be victims.
– Sam Hyde in The Toss it Project
Dopo la cancellazione dello show, alcuni contenuti di World Peace precedentemente censurati o non mandati in onda hanno cominciato a trapelare su YouTube. Il primo è stato lo sketch I am a Cop che, nonostante fosse palesemente ultimato, non è stato inserito in nessun episodio.
Il 22 settembre 2017, invece, alcuni canali YouTube hanno pubblicato l'episodio pilota dello show, mentre quattro giorni dopo il canale ufficiale di MDE ha pubblicato il video [OMITTED]: una rassegna di tutte le sigle e i bumper nella versione originale non censurata.
Il pilot in particolare è stato rilevante per i fan perché ha confermato qualcosa che in precedenza Sam aveva solo accennato, ovvero che alcuni sketch di World Peace erano stati ampiamente "tagliati".
Prendiamo ad esempio lo sketch Baseball: non solo si è scoperto che nel pilot era molto più lungo, ma la parte finale dello sketch includeva anche Dads, ovvero il sequel spirituale di Moms, uno dei video più apprezzati del loro canale YouTube.
Per quanto riguarda le altre scene, finora non è stato possibile capire con esatezza quali sketch siano stati tagliati e quali no. Ci sono sketch come We've Got to Get Down to the Gulch e lo sketch che sembra ambiantato in una fraternity che danno un po' l'impressione di essere frammenti di scene più lunghe ridotte a una gag, ma siccome non ci sono state conferme né dai MDE né da Adult Swim, la cosa è rimasta una semplice fan speculation.

Una prova di questi tagli è stata però fornita da Andrew Smith, l'attore in sedia a rotelle che interpreta Robbie nello sketch T-rex tricks you out, il quale ha rivelato su Reddit che lo sketch di cui è protagonista doveva in realtà essere più lungo.
Stando alla sceneggiatura postata su Reddit, è stata tagliata tutta la seconda metà dello sketch (l'attore ha raccontato che un'intera giornata di riprese non è andata in onda), che tra l'altro pare avesse anche un finale più divertente e a "lieto fine" rispetto alla versione andata in onda, interrotta a metà.
Infine, ci sono altri interi sketch che mancano all'appello. Alcuni di questi, pur comparendo brevemente nei teaser o nelle fotografie del dietro le quinte che i MDE hanno postato su Facebook, non sono mai stati né trasmessi da Adult Swim né pubblicati in rete.
Manca ad esempio lo sketch in cui Nick compare vestito da cono stradale o quello in cui Charls e Erick indossano abiti cyberpunk (forse tutte parti di uno stesso sketch).
Inutile dirlo, l'attesa tra i fan di MDE della comparsa di questi sketch su YouTube è altissima.
Musiche
La colonna sonora di Million Dollar Extreme presents: World Peace è un altro gigantesco punto forte del programma.
Gli artisti accuratamente selezionati si dividono in due categorie: da una parte ci sono band e cantanti underground come Ovlov, The Soft Moon e John Maus, le cui performance – di solito nelle scene conclusive – venivano eseguite direttamente sui set, spesso facendo parte degli sketch stessi.
Dall'altra parte, invece, personalità ancora più underground degli artisti underground: gente "senza volto" presa da SoundCloud che da un momento all'altro si è ritrovata con un contratto di Adult Swim tra le mani (Brian Ellis, Cramped Skunkmen, glue70, ZLA e molti altri).
Pur non comparendo di persona nello show, i loro pezzi avevano lo scopo di fare da sottofondo agli sketch, alle sigle e ai bumper, in molti casi con risultati migliori di quelli dei gruppi.
Per quanto riguarda le band, la cosa straordinaria è che la maggior parte dei brani eseguiti da esse, una volta mescolati negli sketch, assumono un senso sarcastico rispetto a quello originale.
L'esempio principale è quello della band femminista Chastity Belt, la cui performance fa da chiusura allo sketch Male Hookers, che gioca sul capovolgimento dei sessi nella dinamica prostituta-cliente.
Sì: Sam e soci hanno ingaggiato delle band per far suonare dei loro pezzi in senso ironico a loro insaputa (ho già detto che amo alla follia questo show?).
Dopo la cancellazione di World Peace, il 99% delle bad hanno voluto prendere le distanze dallo show, dichiarandosi ignare di tutto e indignate dalla natura del programma.
L'unico a non prendere le distanze è stato John Maus, che anzi in un'intervista ha difeso i MDE e dichiarato di aver apprezzato la serie ("I ragazzi con cui ho lavorato erano simpatici, non ho visto nessuno bruciare croci lì").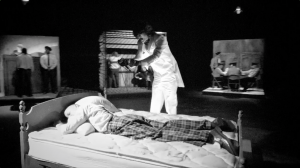 D'altronde, anche lo stesso Maus è stato oggetto di censura in World Peace. La sua performance alla fine del bellissimo sketch The Man who would never be… what they made him to be consiste nel cantare Hey Moon attorno a un Charls arrabbiato e disperato appena uscito dalla sua "prigione".
Nella versione originale dello sketch, però, la canzone era Cop Killer.
Bumper
Come ho accennato all'inizio, in World Peace persino i bumper, cioè quei piccoli segmenti che separano uno sketch dall'altro, sono curatissimi, e senza dubbio meritano di essere analizzati a parte.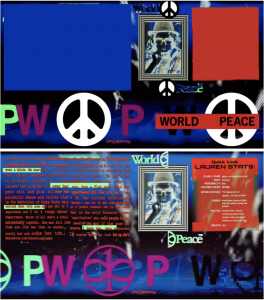 Intrisi della stessa satira pungente che anima lo show di cui fanno parte, anche questi brevissimi intermezzi psichedelici sono stati ampiamente censurati da Adult Swim, in questo caso con l'utilizzo di rettangoli monocromatici per coprire le scritte.
Le scritte in questione, che sarebbero comparse sullo schermo solo per pochissimi secondi, racchiudevano considerazioni, critiche e commenti sarcastici vari in forma di guide, suggerimenti da parte del trio o quant'altro.
Uno dei bumper aveva anche lo scopo di svelare un retroscena dello sketch I am a Cop, che però, come abbiamo visto prima, non è mai andato in onda.
Niente più Pace nel Mondo
No comment
So many comments
Bored, angry, amused, semi-interested, silent
You know who you are
As for us
All of those things
Majority rules
Million Dollar Extreme Presents: World Peace, 2016
Con queste parole un paio di mesi fa si è aperta una replica di un episodio di Million Dollar Extreme Presents: World Peace, tornato in onda in via del tutto eccezionale in occasione di una maratona speciale organizzata da Adult Swim.
Se si può trarre un insegnamento dalla vicenda di Million Dollar presents: World Peace, è che dinanzi alla satira siamo tutti uguali: si può scherzare su qualunque cosa senza distinzioni di sesso, razza o religione, se lo si fa bene.
E, a mio parere, i MDE avevano ampiamente dimostrato di saper fare satira intelligente.
Poi, però, nel dicembre dell'anno scorso la Turner Broadcasting ha detto che World Peace era razzista, omofobo e misogino, e tutti noi non abbiamo avuto altra scelta che crederle.