10 migliori minigiochi di Rhythm Paradise
Avendo da poco finito Rhythm Paradise Megamix e avendolo trovato non solo il capitolo migliore della saga, ma uno dei giochi più divertenti per Nintendo 3DS, mi sento in dovere di dedicare qualche riga a questa splendida serie Nintendo di nicchia spesso sottovalutata.
I divertentissimi minigiochi, le fantastiche tracce musicali, lo stile cartoonesco minimalista ma coloratissimo, il senso dell'umorismo spesso demenziale e i riferimenti alla cultura tradizionale giapponese sono ciò che rendono questa serie così fantastica.
In questo articolo, dunque, voglio celebrare questa meravigliosa serie con una classifica di quelli che, a mio parere, sono i 10 migliori minigiochi di Rhythm Paradise, da Rhythm Tengoku del 2006 a Rhythm Paradise Megamix del 2016.
I minigiochi sono stati scelti in base a quanto li ho trovati divertenti e/o musicalmente appetibili, ma sono tuttavia stati esclusi i Remix, gli endless games e Quiz Show.
10 – Ballerini Spaziali / Ballerini Galattici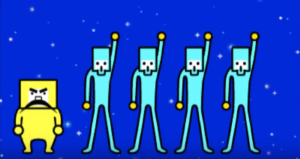 Questo minigioco è molto più divertente di quanto l'estetica ultra-minimalista possa mai far credere.
L'obiettivo del giocatore è quello di far muovere correttamente a ritmo di musica il quarto damerino spaziale seguendo i comandi and pose!, let's sit down!, e pu-pu-pu-punch!.
Il seguito, Ballerini Galattici, è ugualmente divertente, anche se non aggiunge niente di particolarmente nuovo all'originale.
Da giocare rigorosamente in giapponese: le voci metalliche dell'originale sono più piacevoli di quelle nuove introdotte in Megamix.
9 – I calci di Karate Ka
Nel corso degli anni questo karateka (dall'inequivocabile nome Karate Ka) è stato protagonista di numerosi minigiochi di Rhythm Paradise non troppo diversi tra loro.
Il mio preferito resta però quello introdotto in Rhythm Paradise per DS, intitolato I calci di Karate Ka, dove il protagonista tira pugni e calci a vasi, barili e bombe durante una nevicata mentre la canzone del minigioco narra di un amore infranto.
8 – Trio Brio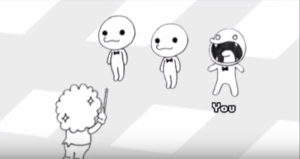 I tre tenoretti bianchi dalle teste enormi e i denti aguzzi, mascotte del capitolo per Nintendo DS, non potevano certo mancare in una classifica di migliori minigiochi di Rhythm Paradise.
Questo minigioco funziona in maniera inversa rispetto a tutti gli altri: al posto di dover premere il pulsante al momento giusto, in Trio Bio bisogna tenere costantemente premuto il tasto A e rilasciarlo per far urlare il personaggio a ritmo di musica.
7 – Il ritorno del Samurai 2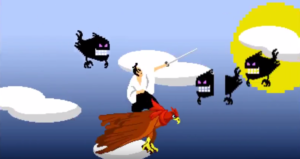 Anche questo misterioso samurai è un personaggio ricorrente della serie, e in Megamix è tornato per un altro paio di volte in versione 8-bit.
Mentre però ho trovato Il ritorno del Samurai abbastanza mediocre e anche difficile nelle parti in cui occorre colpire con la spada i mostri più grandi, Il ritorno del Samurai 2 è stato tutt'altra cosa: sfrenato, divertentissimo e con un tema musicale che pompa adrenalina pura, quanto basta per renderlo uno dei miei mingiochi preferiti di Rhythm Paradise.
6 – DJ School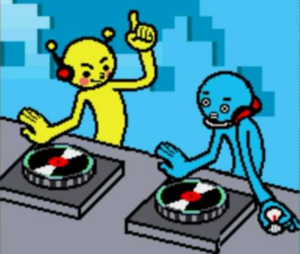 Break! C'mon! Ooh! Scratch-O!!!
Minigioco facile ma allo stesso tempo divertentissimo introdotto nel capitolo per DS. L'obiettivo è quello di scratchare il disco a ritmo di musica seguendo i due diversi comandi del collega giallo.
È un vero peccato che DJ School non sia ritornato in Rhythm Paradise Megamix.
5 – Intervista sportiva

Questo famoso minigioco mette il giocatore nei panni di un wrestler sudaticcio al termine di un duro match intento a rispondere annuendo ad alcune domande di una reporter (in realtà sempre la stessa: "wabbadubbadubba is that true?"), e occasionalmente mostrare i bicipiti e mettersi in posa per una foto.
Intervista sportiva è uno dei minigiochi di Rhythm Paradise più demenziali e divertenti, un posto in classifica era d'obbligo.
4 – Fantasmi Dispettosi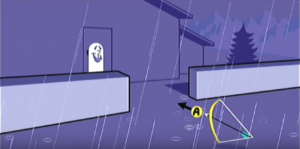 Minigioco che merita un posto in classifica per l'atmosfera, l'estetica, l'idea di base e la simpatica musica di sottofondo.
Tirare frecce a dei fantasmi dispettosi nell'esatto momento in cui passano da una parte all'altra di un muretto mentre piove è un'esperienza più divertente di quanto sembra e che può essere vissuta solo in una serie folle come Rhythm Paradise.
Questi spiritelli burloni hanno perfino fatto il loro ingresso in Super Smash Bros. for 3DS nel 2014 in veste di nemici nella modalità Smash Run!
3 – Primo contatto / Secondo contatto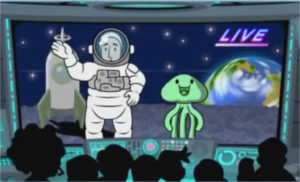 Primo contatto (assieme al relativo sequel) è stata la novità più divertente introdotta in Rhythm Paradise Megamix.
Impersonando un'astronauta, lo scopo del giocatore è quello di tradurre a ritmo di musica le frasi pronunciate da una creaturina aliena verde in diretta alla base spaziale.
Il sequel, intitolato Secondo contatto, presenta invece la situazione opposta: stavolta è lo stesso alieno, in veste di intervistatore, a dover tradurre ciò che dice un contadino della Terra.
2 – Alta Lena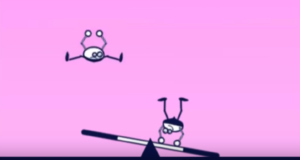 C'è qualcosa di particolarmente magnetico nel gameplay di questo minigioco con protagoniste due pseudo-ranocchie che saltano a turno su un'altalena a ritmo di musica metal.
Alta Lena è divertentissimo e ad oggi trovo che il suo tema musicale sia in assoluto uno dei migliori di tutta la serie.
Nel periodo di Beat the Beat: Rhythm Paradise questo minigioco mi prese così tanto che arrivai a imparare a farlo a occhi chiusi.
Inutile dirlo, il ritorno di questo minigioco in Rhythm Paradise Megamix è stato più che gradito.
1 – Ninja del corpo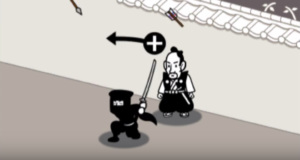 Introdotto per la prima volta in Rhythm Tengoku, già dopo il primo paio di tentativi a Ninja del Corpo intuii che sarebbe diventato il mio minigioco preferito.
Lo scopo del gioco è quello di impersonare un ninja ed evitare che le frecce scoccate da un esercito di ninja vestiti di bianco colpiscano il maestro tagliandole in due con la katana al momento giusto seguendo lo splendido motivetto orientale in sottofondo.
Questo minigioco ha quella fantastica qualità di alcuni minigiochi di Rhythm Paradise di essere difficile ma allo stesso tempo non frustrante da imparare, anche se, pur avendolo giocato e rigiocato un'infinità di volte, il livello di pathos è sempre alto quando arriva il momento di dover tagliare le quattro frecce assieme.
Servono infatti un ottimo senso del ritmo e una concentrazione quasi da vero ninja per capire il momento giusto in cui tagliare la raffica di frecce, e nel momento in cui si riesce a farlo la soddisfazione è altissima.
Ninja del corpo merita dunque, a mio parere, il primo posto nella classifica dei 10 migliori minigiochi di Rhythm Paradise.
WikipediaRhythm Paradise Megamix
Sito UfficialeRhythm Paradise Megamix