1 recensione di Hannibal Lecter vs Leatherface di Freshy Kanal
Hannibal Lecter vs Leatherface è una battaglia rap realizzata da Freshy Kanal, la settima in versione live action, pubblicata su YouTube il 31 ottobre 2020 in occasione di Halloween.
Parte della redazione di XCose ha visionato Hannibal Lecter vs Leatherface in casa durante una serata a tema Halloween. Il video è stata un'ottima cornice a una splendida nottata in compagnia tra risate e dolciumi.
Che dire, Freshy Kanal continua a deliziare il suo pubblico alternando battaglie animate ed altre con attori in carne ed ossa.
Laddove Epic Rap Battles of History, la loro fonte d'ispirazione principale, ha preso una lunga pausa a causa del Coronavirus, tornando solo di recente per una battaglia speciale a tema elettorale, il team di Freshy Kanal è andato avanti nonostante ogni calamità continuando a pubblicare video per tutto l'anno, arrivando addirittura a far recitare Mr Tibbs (il rapper che qui interpreta Hannibal Lecter) in un periodo in cui era inconsapevolmente positivo al Covid-19.
Hannibal Lecter vs Leatherface mi ha colpito subito per la sua atmosfera cupa perfetta per Halloween, così come perfetti sono i costumi. Se quello di Lecter non era proprio difficile da ricreare, quello di Leatherface colpisce molto per la cura nei dettagli: buona maschera, macchie di sangue sulla camicia e motosega.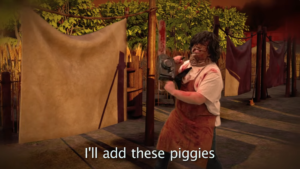 A tal proposito, è bello vedere il ritorno di Freshy Kanal nei panni di un personaggio (Leatherface): non accadeva da quando interpretò Waterboy nella sua prima Rap Battle in live action, contro Forrest Gump.
Nei panni di Hannibal Lecter c'è invece Mr Tibbs, una garanzia per i video di Freshy. In passato aveva già interpretato personaggi come Willy Wonka, Mr Bean e lo youtuber Pyrocynical.
A livello di lyrics premetto che non conosco bene nessuno degli universi cinematografici dal quale provengono questi due mostri cannibali, dunque la mia conoscenza riguardo i vari riferimenti nei loro dissing è abbastanza limitata, ma indipendentemente da ciò i testi sono comunque di qualità.
I due inoltre rappano in modo davvero veloce e quindi, nonostante i sottotitoli, mi è stato necessario vedere il video più volte per comprendere molte frasi.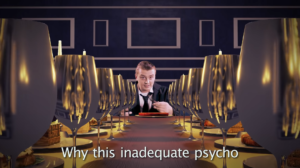 La vera chicca del video sono però le visual.
Quando questi ragazzi si mettono d'impegno riescono ad essere perfino migliori di ERB nel ricreare ambienti in 3D. Posso solo immaginare quante ore di lavoro siano state necessarie per realizzare lo sfondo di Leatherface.
Il mio effetto visivo preferito però si trova nella seconda strofa di Hannibal Lecter: quando la telecamera fa un lento primo piano su di lui, con in pugno forchetta e coltello, mentre rappa seduto a una tavola imbandita ricreata in 3D.
Per quanto riguarda il vincitore della battaglia, vado completamente controcorrente rispetto ai commenti su YouTube e dico che per me il vincitore è Hannibal Lecter: il suo flow, specialmente durante la seconda strofa a partire da «I'll go and handle this psychoanalysis» è semplicemente fantastico.

Si conclude qui la mia recensione di Hannibal Lecter vs Leatherface. Lascio qui sotto il video dell'episodio. Buona visione e buon Halloween a tutti!