4 famose imitazioni di Jacques Cousteau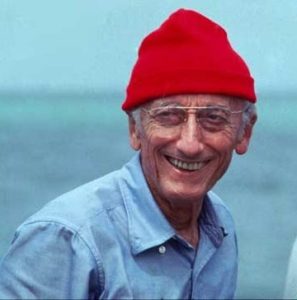 Jacques-Yves Cousteau è stato uno dei più grandi esploratori marini e oceanografi della storia. Con i suoi viaggi a bordo della nave Calypso ha regalato al mondo una lunga sfilza di documentari sul mondo sommerso, invenzioni come la muta da sub e film documentari come Il mondo silenzioso, vincitore tra l'altro di un premio Oscar.
Ma la sua fama non poteva passare inosservata al mondo della comicità, ed infatti negli anni diversi comici (e non solo) si sono prodigati in parodie e imitazioni di Jacques Cousteau, "rubandogli" il tono di voce, l'accento francese, il capellino rosso, la camicia celeste e a volte persino la Calypso.
XCose ha voluto raccogliere, in nessun ordine particolare, quattro parodie e imitazioni di Jacques Cousteau.

1 – Dana Carvey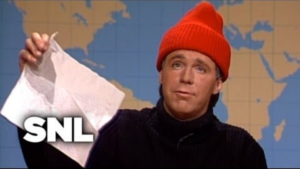 Il comico e imitatore Dana Carvey imitò Cousteau, con tanto di immancabile berretto di lana rosso, all'interno della storica trasmissione satirica statunitense Saturday Night Live negli anni '90.
Replicando il tono di voce pacato di Cousteau, Carvey condiva la sua imitazione con descrizioni dettagliate di animali improbabili. In un video pubblicato dal canale ufficiale del SNL su YouTube, ad esempio, Carvey-Custeau si prodiga nella descrizione dei rituali d'accoppiamento del napkin fish, il quale altro non è che un comunissimo tovagliolo.
Carvey utilizzò la sua imitazione di Jacques Cousteau anche per uno spot in radio, per promuovere un suo show.

2 – Spot Rainier Brewing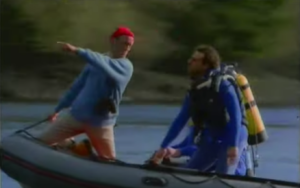 Non è raro che un'azienda decida di servirsi di parodie di personaggi famosi della storia per promuovere il proprio brand o i propri prodotti, basti pensare quante volte, qui da noi, il sommo poeta Dante Alighieri sia stato "preso in prestito" per scopi pubblicitari.
Ebbene, negli anni '80 la Rainier Brewing puntò proprio su una parodia di Jacques-Yves Cousteau per promuovere il proprio prodotto. Così nel simpatico spot-parodia viene ritratto un Jacques Cousteau che, con la sua équipe a bordo di un canotto, insegue alcuni esemplari di lattine di birra giganti allo stato brado.
Non si sa come la famiglia di Cousteau avesse reagito dinanzi a questa pubblicità, ma gira voce che un altro spot simile, creato per pubblicizzare il videogioco Ecco the Dolphin, non fosse stato per niente gradito.

3 – Epic Rap Battles of History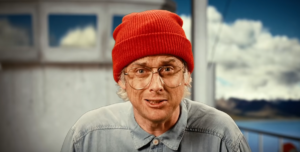 Cousteau compare, nella sesta splendida stagione di Epic Rap Battles of History, per combattere Steve Irwin in una battaglia rap.
In piena tradizione ERB, l'imitazione ad opera di Peter Schukoff è curata nei minimi dettagli: il suo Cousteau ha il caratteristico cappellino rosso, la camicia celeste, occhiali, pipa e makeup per renderlo più anziano.
Il nome di Schukoff è stato inserito all'interno della pagina Wikipedia americana di Jacques Cousteau nella lista di attori che hanno interpretato il ruolo del famoso marinaio francese.
Un'osservazione tecnica: come illustrato in uno dei video presenti sulla pagina Patreon di ERB, la nave che nel video fa da sfondo a Jacques Cousteau è stata ricreata da zero dallo staff dello show e rappresenta una replica esatta in 3D della Calypso!
4 – Sketch tv di Harvey Korman e Tim Conway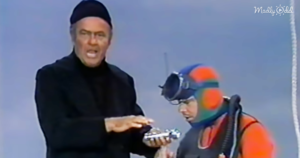 Il comico americano Harvey Korman presentò la sua imitazione di Jacques Cousteau all'interno del The Carol Burnett Show.
In questa versione distorta di un documentario di Cousteau, il capitano diventa Jacques Tooto e la Calypso diventa la Chachacha.
Nello sketch che ho recuperato da YouTube, il capitano Tooto tenta di costringere il suo collega sommozzatore, interpretato da Tim Conway, ad immergersi per osservare da vicino il "grande calamaro killer".
Il risultato è uno sketch davvero simpatico.